Master of Business Administration IT MANAGEMENT
An MBA in IT Management will develop your skills in management and transform you into a top candidate for positions in the exciting world of technology.
Live Online Interactive and Recorded Classes

Earn a MBA degree without leaving your job

Be in Demand with Dual international Degrees
Speak to our Program counsellor
Accelerate your career growth with Master of Business Administration offered by IU International University of Applied Sciences (Germany) and London South Bank University (UK). You will graduate from IU with both a German degree and a British degree: a major advantage for international career prospects! No extra study courses or traveling are required.
Managing information technology is a huge task as every society and business on the planet relies on digital tech. This Master of Business Administration (MBA) focuses on IT Management, an essential task in the digital age. Technologies are becoming much more complex and the competitive market demands high performance and efficiency of all systems. 
In this programme, you'll learn techniques to develop and manage IT infrastructures, methods and concepts to apply for effective project management, and how to implement solutions and services for individual departments or entire international companies. You'll gain fundamental knowledge of software engineering and explore important topics such as compliance, data protection, network policies, and information security according to regional and international standards.   
AACSB Member
Global membership association for the business education industry
Dual Degree
Globally recognized dual MBA degree from IU and LSBU university

Global Degree
Earn an global degree without leaving your job.

QS 5 Star Rating
5-star rating for Online Learning from QS Quacquarelli Symonds
Global Alumini Network​
Earn select alumni benefits by joining a community of 75000+ global professionals
Ace your career
Exclusive job assistance program
Study In Germany​
Ultimate flexibility to choose your study location for any semesters
Gain from Experience
Connect with Industry leaders and learn from their experience
Resume Boost ​
Increase international career prospects, Qualify for top jobs worldwide
Balanced Content
The Ideal Mix Of Theory & Practice
Flexible Learning Model
Balance Of Supervised And Independent Study

24/7 Support
World class online support available
MBA Degree from IU University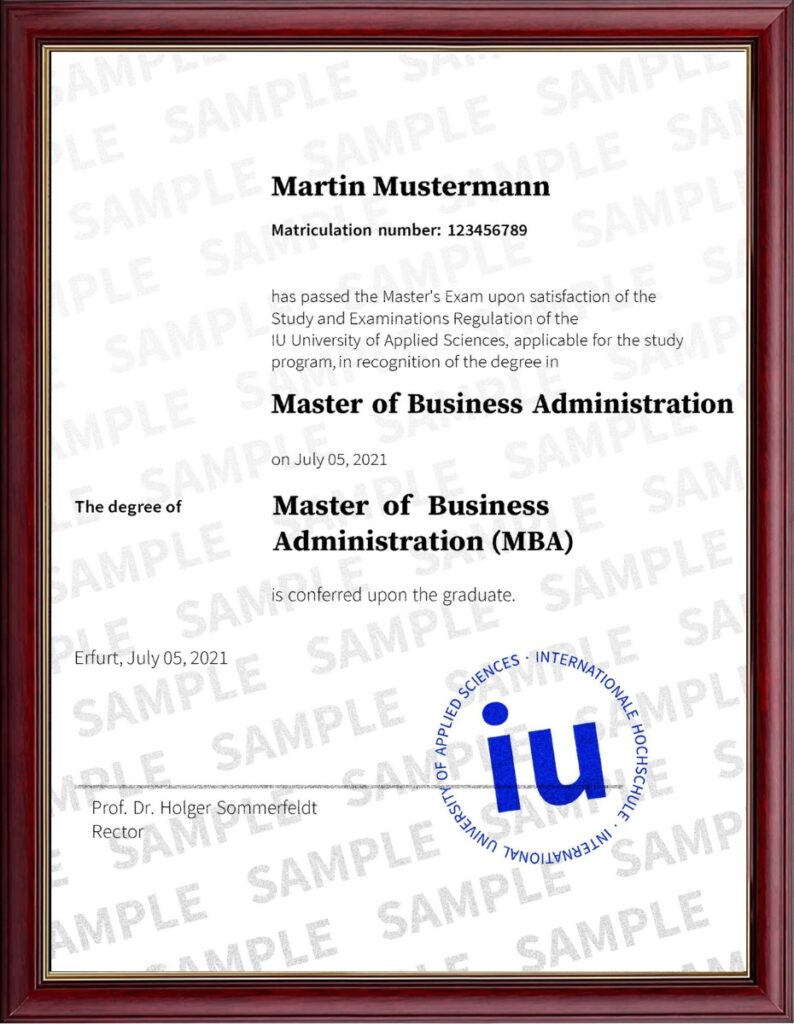 This is a sample certificate for display purpose
Best-in-class content by leading faculty and industry leaders in the form of videos, cases and projects, assignments and live sessions
▪ Establishing IT governance and compliance
▪ COBIT framework
▪ IT governance frameworks
▪ Data protection and data security
The application process consists of four simple steps. An offer of admission will be made to the selected candidates and accepted by the candidates by paying the admission fee.
For admission to this program, candidates should have:
We have a team of dedicated admissions counselors who are available to guide you as you apply to the program. They are available to:
Talk to our admissions counselors now!
Admission Fee & Financing
The admission fee for the MBA program is ₹ 2,98,000 (All-Inclusive)
We are dedicated to making our programs accessible. We are committed to helping you find a way to budget for this program and offer a variety of financing options to make it more economical.
We have partnered with the following financing companies to provide competitive finance options at a 0% interest rate with no hidden costs.
We provide the following options for a one-time payment
Step-by-Step Placement Support
Career Counselling​
Identify and understand the areas to work to achieve happiness and success
Profile Building
Make a difference between a good resume and a great one.
Interview Preparation
Master the art of giving interviews and cracking them with ease
Ace your career
Get exclusive Access to Job opportunities aligning with your role, skills, experience, and interest
In both my passion and my career, the skills and competencies I learned at IU have made a big difference.
You can participate in IU events and establish an excellent network. My career proves it.
The university teaching at IU is characterized by a high degree of practical relevance.
Still have queries? Contact Us