Program Management role differs a lot between service and product based companies. To our surprise, many people are yet unaware of the differences. In this article, you will find a high level summary of differences. 
These differences holds good to 90% of the organisations. You may find some variances depending on the size and age of the organisation and its PMO.
Off course this is covered in depth in the only Practical Program Management course in the world  Post Graduate certificate in Program Management 
Below is the hierarchy differences between Program Manager role in service and product based companies. As you can see, Program manager role in Service based companies is a people manager, more or less like Delivery Manager.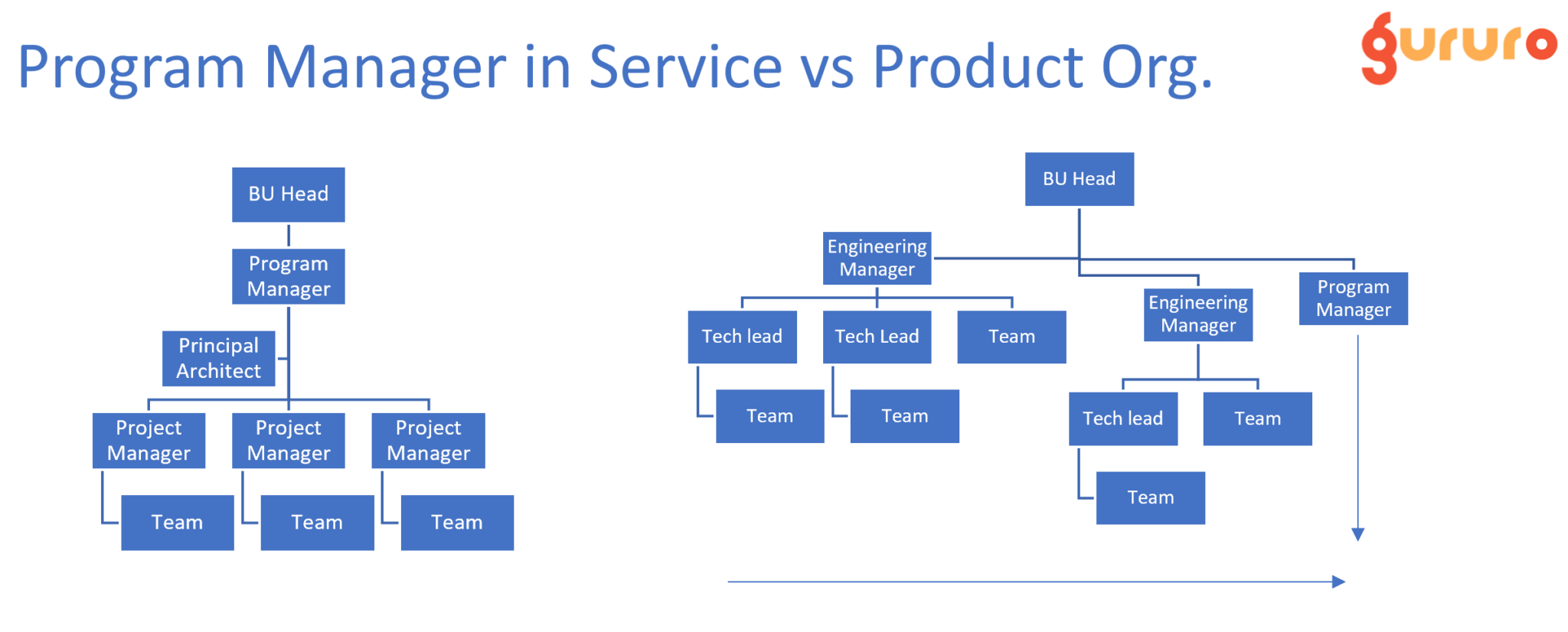 Responsibilities / Activities

Service Based Company

Product Based Company

PEOPLE MANAGEMENT

People Management responsibilities are present.

Typical reportees are project managers, team leads, architects etc.

Individual contributor role.

Principal / Director program managers have reporting of program managers

PROJECT MANAGEMENT INVOLVEMENT

Being the Manager of project managers direct Project Management responsibilities are limited.

Drives the projects

DELIVERY OWNERSHIP

Being the Manager of project managers direct delivery responsibilities are limited. As the ownership is with the respective Project Managers

Owns the project delivery

ACCOUNT MANAGEMENT

Yes

No

BUSINESS GROWTH

Yes

No

DRIVES COMPLEX PROJECTS?

No

Yes

HANDS ON ROLE?

No

Yes

AVERAGE SALARY FACTOR

1.5 times the experience

3 times the experience (2X of service based companies)

EXPENDABLE ROLE?

Yes, Mostly non billable and adds less value

No, Program Managers contribution is quite significant in Product Based companies.