Speak to our Program counsellor
The IU Master of Business Administration (MBA) and Engineering Management gives technical minds essential skills to become great leaders and communicators. During your studies, you will deepen your management techniques and learn how to lead teams to success in roles such as Engineering Project Manager. You'll deal with budgeting, planning, and coordinating as well as evaluating quality and performance which will prepare for top career roles at the junction where management and technology meet. 
Dual MBA Degree Certificate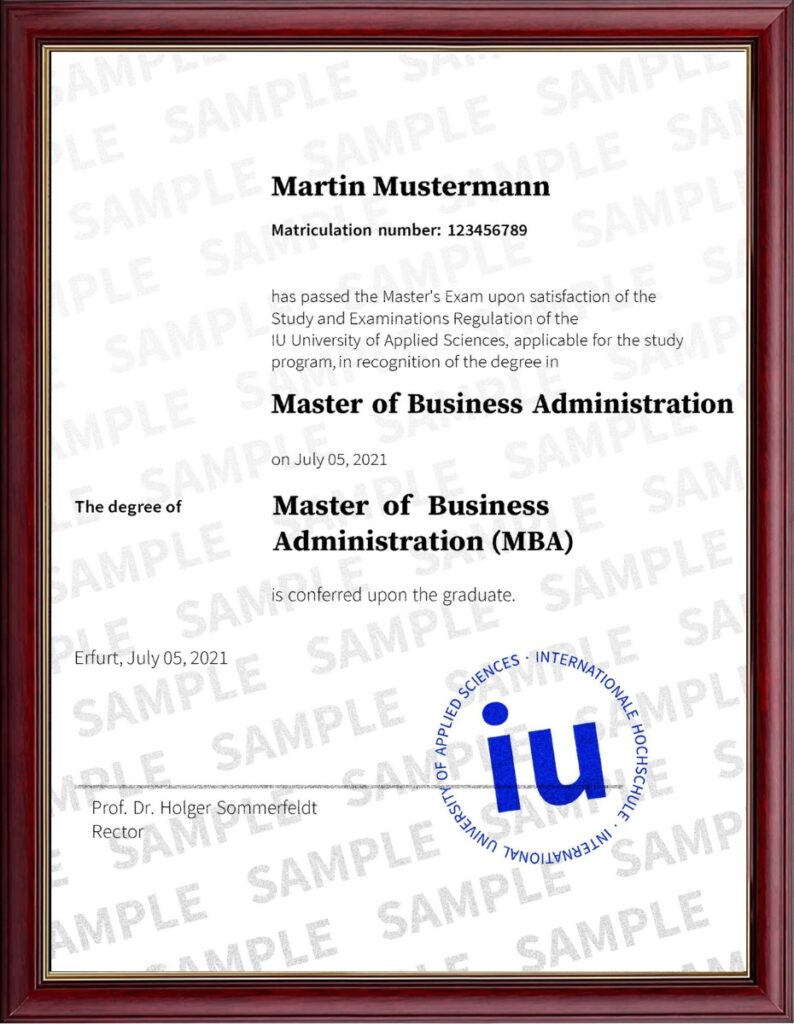 This is a sample certificate for display purpose
This is a sample certificate for display purpose
Job Assistance
Get premium access to latest and relevant opportunities on top job platform. Learners also get benefit to the vast alumni referral network.


Leadership Profile Building
Get assistance in creating a world-class resume & LinkedIn Profile from our professional team to grab the attention of the hiring manager.
Mock Interview Preparation
Students will go through mock interviews conducted by technical experts who will then offer tips and constructive feedback for reference and improvement.
1 on 1 Career Mentoring Sessions
Attend 1-1 sessions with career mentors on how to secure your dream job based on a academic background, past experience, and future career aspirations.
Leader Sessions
Learn from the Industry Leaders who have been there and done that. Leverage the experience shared by them of their struggles and success mantras.


Access to Premium Courses
Access to 200+ hours of premium self-paced courses to gain knowledge on the most desired industry skills.



Best-in-class content by leading faculty and industry leaders in the form of videos, cases and projects, assignments and live sessions
comprehend, critically reflect on, and adopt the Design Thinking mindset.
Understand the inspiration, ideation, and implementation phases.
Evaluate and identify appropriate methods from the toolbox of human-centered design for given design tasks and challenges.
The application process consists of four simple steps. An offer of admission will be made to the selected candidates and accepted by the candidates by paying the admission fee.
For admission to this program, candidates should have:
We have a team of dedicated admissions counselors who are available to guide you as you apply to the program. They are available to:
Talk to our admissions counselors now!
Admission Fee & Financing
The admission fee for the MBA program is ₹ 2,50,000 (All-Inclusive)
We are dedicated to making our programs accessible. We are committed to helping you find a way to budget for this program and offer a variety of financing options to make it more economical.
We have partnered with the following financing companies to provide competitive finance options at a 0% interest rate with no hidden costs.
We provide the following options for a one-time payment
Accelerate your career growth with Master of Business Administration offered by IU International University of Applied Sciences (Germany) and London South Bank University (UK). You will graduate from IU with both a German degree and a British degree: a major advantage for international career prospects! No extra study courses or traveling are required.
In both my passion and my career, the skills and competencies I learned at IU have made a big difference.
You can participate in IU events and establish an excellent network. My career proves it.
The university teaching at IU is characterized by a high degree of practical relevance.
Still have queries? Contact Us